Narcissistic Parental Abuse and Parental Alienation YouTube Channel
We are proud to have been announced as being in the Top 50 Narcissist YouTube Channels!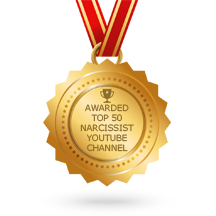 Don't forget to subscribe
Sometimes validation is all we need.  Someone to say those things that are in our head.  To answer those questions which have been keeping us awake at night.  Dealing with narcissistic parental abuse and parental alienation can feel like a very lonely place to be because no-one can possibly understand what it feels like. Our YouTube channel provides you with the very latest training and insights to help you understand and recovery.
The channel covers three main topic areas:
Narcissistic Abuse
Narcissistic Families
Parental Alienation Exposed
Our schedule is Tuesday, Friday and Sunday so keeps your eyes peeled on those days for the next instalment.
Latest video:
New for 2018!
Every Sunday I will be doing a live on YouTube covering a specific theme relating to narcissistic parental abuse.
Last LiveStream Episode – Why The Narcissist Alienates You
For downloadable resources please head to our Resources page
If you have any specific topics on narcissistic parental abuse you would like me to cover please do Contact Me